Note:
Below is the list of the Performers & Entertainers we had in past years events....

Klose Up Kapers
John Robertson, our wonderful Magician will be roaming the event grounds, astounding everyone with his magickal talents!

Danse Macabre
Don't be alarmed if you see skeletons dancing around Festival.
It is a time "to celebrate the joy and frivolity of Life and re-affirming our communion with the Ancestors."
Learn more about the Danse Macabre at:
www.thedansemacabre.com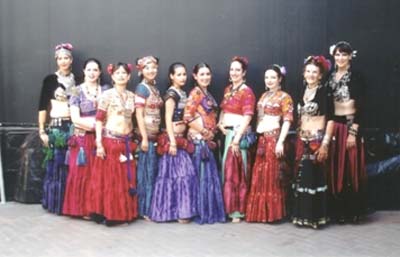 Manasa

Tribal Fusion Belly Dance
Performing on Saturday at 1:30pm
"Manasa... A name passed on through the ages, untouched by time. The divine deity of ancient civizations, worshipped as a creative principle, whose energies bound the universe. A name of tribal orgin, that in Sanskrit stands for a sacred place... heart, mind, and spirit. In taking the name, Manasa, we sxpress how dance is our spiritual jouney. Our path is of creativity, friendship, and devotion to the dance, and with our energies bound to the universe, we come to you ...Manasa.
"The dance we perform, American Tribal Style (ATS) belly dance, is a fusion of tribal dance formats from India, the Middle East, Central Asia, North Africa, and Spain. Our colorful costumes reflect the exotic melange of those people, with modified Indian cholis, coined bras, three-tiered skirts over billowing pantaloons, embroidered and mirrored tassel belts, and lots of tribal jewelry. This brings to our viewers an exciting visual feast!
Each of our performances is a unique presentation of our collaborative creative efforts."
"We hope that our performance takes you on an incredible entertainment adventure, where you can join us in the spirit and joy of our dancing. Come celebrate and enjoy with us!"

www.manasadance.com
********************************
Obsidian Butterfly - Firedancers

Obsidian Butterfly is a non-traditional art troupe.
They use art as a means of self-expression, healing, spiritual growth to create performances that weave their many talents into one production.
There shows are an alchemical blend of ecstatic expression through dance, poetic storytelling, fire, ancient mystery, and everyday life.
web site

********************************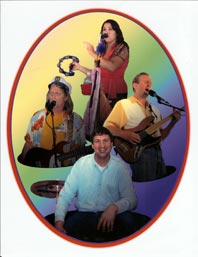 Kousin Krispy

"All the Swamp, Twice The Stomp!"
Imagine Weird Al driving a tour bus full of Mariachi band members being T-boned at an intersection by the Ventures who happen to be listening to an eight track of Ravi Shankar at the time. Now set this unlikely scene in front of a trailer park full of old single wides and you would get a pretty good idea what the band is about:
The music is upbeat, danceable, varied, irreverent, and above all entertaining.
Genre: Monkey Paw Blues, Hillbilly Surf, Haltertop Pop
********************************
Lighting Hand Band


Blues based rock and roll band!
check them out at:
www.lightninghandband.com
********************************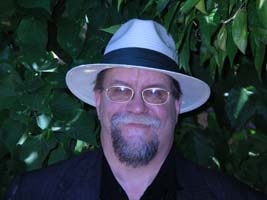 Stanley Le Roy Morey II

Celtic Music

Stan has been an active part of the Celtic music scene in Omaha. NE. since 1983 where he formed and directed the internationally known recording group. "Emerald Fyre", he went on to form and direct the pagan-based group "Brighid's Cauldron" and performed as senior "Rennie" (Rennassiance performer) for the past 25 years. His background is a BFA in Music, theory/Composition and brings his experience of voice, guitar, Jazz and classical violin,keyboards, percussion and tonalmancy in an interactive concert setting. A true Bard of our times!
********************************
Roberta Chevrette

Organic, Expressive, Down-Home Music
From her site: "A recent Sammie (Sacramento Music Awards) nomination and subsequent article described her as 'like Ani DiFranco, but with less of the rage and more of a sweetly serious Earth-mom thing going on.'"
www.robertachevrette.com
*******************************
David Harpe

Flute and Didgeridoo


*******************************
Kris Loewen

Kris is a teenager that loves to sing and entertain and we are pleased to have this wonderful new talent joining us for Festival!
Kris' bio coming soon!

********************************
Hecate's Riddle

"Hecate's Riddle has been rocking the Northern California pagan community since 2002 and were later joined by Mother Mary (Isina's mom) on djembe. Mary has since passed on (February 8, 2007) into the Summerland. the band picked up momentum when Talon and C.A. Wolf joined on drum and bass guitar respectively. Wolfman has gone on to form his own band Poseidon and we have just recruited another bass player, Firehawk."

Learn more about Hecate's Riddle

Others to be listed soon......as we update these pages.