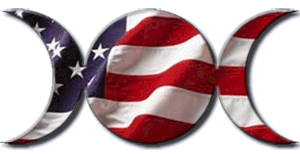 Victory!!!!!
Court case settled by the Dept. of Veteran Affairs
Pentacle Symbol Approved
Read all about this victory at:
Circle Sanctuary
Brave and Strong Soldiers
By WinterSky

WinterSky's account of the Sgt. Patrick Stewart Plaque Dedication Ceremony in Fernley, NV. and the Special Rite of Passage Ceremony for the victory of Pentacle Quest settlement.
There are now two videos, made by WitchyFilms, Pagan Elders Dedicate the Pentacle Plaque for Sgt. Stewart and Wiccan Pentacle Dedication Ceremony, on YouTube of the Sgt. Stewart dedication ceremony.
Also, here is information about the Symbol Song, supporting the fight for the pentacle on military headstones.

Be sure to check out the News section for up to date local info.
Operation Homefront
Operation Homefront is a non-profit organization that provides assistance to military families while service members are deployed. They support our nation's troops by allowing military personnel to focus on the demands of their duties abroad.
There is also a Sacramento chapter.
Patriot Defenders Network
Patriot Defenders Network works to keep people abreast of the events around our community that support our troops and their families still at home.
Marine Comfort Quilts
Marine Comfort Quilts is a group of wonderful people who are sending quilts to the families of soldiers, of every branch of service, who have been lost overseas in Operation Iraqi Freedom. You can volunteer your help in many ways.

Victory for our Soldiers and their families!
On Monday, April 23rd, 2007 news spread swiftly among the Pagan communities regarding the end of the, almost 10 year long quest to have the Department of Veterans Affairs approve the Pentacle symbol as the emblem of faith for our Pagan Soldiers.
You can read the entire story on this quest, right from the beginning on through the settlement thereof, at: Circle Sanctuary
Upon hearing the news, Ancient Cauldron knew it had to follow through and was proud to sponsor a special Rite of Passage for the Pentacle Symbol, to Honor all our Soldiers, especially our Fallen Hero's who paid the ultimate price for not just our rites and freedoms, but for all people. Read my account of both the Plaque Dedication Ceremony for Sgt. Patrick Stewart and the Special Rite of Passage.
Magickal Blessings,
WinterSky

We would like to introduce you to Any Soldier Inc. If you are looking for a way to send letters, packages and information to the troops, this is a great site for it! Soldiers sign up on the site, send emails to the site and also list what items they and the others in their unit need or would like. The main soldier is sent the stuff and hands out the packages to the soldiers who don't receive any mail. WinterSky spends hours on this site, reading their entries, and has highly suggested you have a box of tissues handy when accessing this info!
We would like to introduce you to another soldier contact site, although this one is more complicated: Soldiers' Angels.
We would like to introduce you to Operation Hero's Salute. From the site:
"We Salute all Hero's in Uniform: Men, Women and Children of our Past, Present and Future!
We are Proud of those in Uniform who stand and protect us selflessly, making personal sacrifices for the Good of All.
We Salute their families, for the sacrifices they also have/are/will undergo."
We would like to introduce you to the group Desert Moon Grove, a coven started for the support of soldiers overseas in Iraq. To find out more about the group and the items they are requesting for overseas, check out their posting at PaganNews. They also have a Yahoo Group, Forest Moon Grove, where you can help them achieve their goals of creating positive changes towards the military pagan community.

Never Forgotten Inc.
Max Loffgren honors the POW/MIAs by listing their names on his '55 Chevy.
http://neverforgotteninc.org/
May is National Military Appreciation Month
Here is the web site to link to for the info on ours here and others that may be going on: http://www.nmam.org/state/ca.htm

Armed Forces Day is Celebrated the 3rd Saturday of May.
Here is the defense departments link to the info and history
http://www.defenselink.mil/afd/military/history.html
Patriot Guard Riders
"Our main mission is to attend the funeral services of fallen American heroes as invited guests of the family." This group also attends many of the homecomings of our troops, whether it is an individual soldier or a squardon coming home or taking off for a duty station in a war zone, they are their to proudly hold a line of American Flags in support of our troops.
www.patriotguard.org
Never Forget Our Fallen
http://www.neverforgetourfallen.com/
Blue Star Mothers of America, Inc. (Blue Star Moms)
Main Organization

Flag Moon created by Webmystress.

Last updated April 8, 2012
Contents © 1999-2011 by Ancient Cauldron. All rights reserved worldwide. Ancient Cauldron shall not be liable in the event of incidental or consequential damages arising from the use of information supplied herein. This website is privately owned and not associated with a corporation or non-profit organization. If you have any comments or questions about this webpage, please email us.
We have done our best to note copyright when possible on this site. If you see material that is uncredited or credited incorrectly, please let us know.